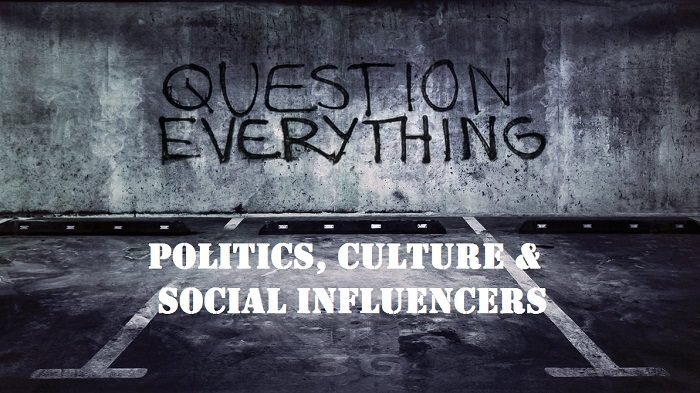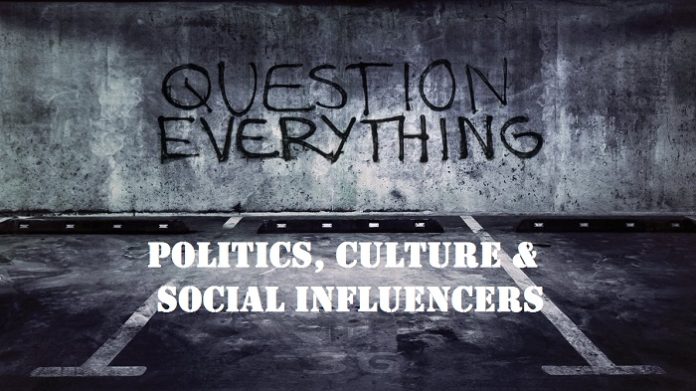 Political Correctness Gone Wild
In the last decade, political correctness has become a real barrier to free speech. It seem s as if social justice warriors are always looking for new ways to be offended. This very noisy subculture has come up with a whole new vocabulary to describe all the ways that the world is being unfair to them. The mass media is also promoting this and always pushing a narrative using divisive storylines that have created far more disharmony amongst our population. Fortunately, we have rational social influencers of our own who are pointing out SJW's hypocrisy and identity politics real purpose for the whole world to see. Here is a list of important social influencers who fight the good fight for America's freedoms day in and day out.
Disclaimer
We promote independent media that are being suppressed, censored, or just not widely known. Vision Launch Media does not necessarily endorse the views of the media we promote, but we find censorship completely unacceptable. We think people are mature enough to hear all the information and form their own opinion.
We strongly believe in free speech and we wish to cultivate critical thought by making it easy to find information that is not discussed in the national conversation. Liberty cannot exist without free speech and the free-flow of information. With that said, please use your own discernment, do your own research, and question everything. Nothing is as it seems.
Critical Thought Requires That We Question Everything & Everyone!
Candace Owens – Blexit
I was born in 1989 with a blocked tear duct. My mother remarks that when I would attempt to cry (only when I was hungry as she tells it) it would swell up like a giant booger. This innocuous tidbit about my first weeks on earth may seem ill-fitting for an "about" section on a website, but lately, I've been obsessed with symbolism. Upon retrospect, my birth defect may have been a dramatic foreshadowing. Throughout my life, I have been afforded many opportunities to cry; it was never easy, it was always hard, it was always happening to me, and never happening to them and yet somehow—I am here. That's because the past, as I like to say, is nothing in comparison to the endless possibility of our futures. You've come to this website because you already know what it is that I do, but do you know why? Choosing to think has been one of the most transformative secrets of my life. It's brought me closer to others and has opened the world up to me in a way that I never knew was possible. I believe if we can turn the dial on the way people view themselves, we can change the world instantly – for the better.
About me: I am a fighter. And right now, I'm fighting for the heart and soul of a country I love.
Website — Twitter — Youtube — Facebook
Dave Rubin – The Rubin Report
The Rubin Report is the largest talk show about free speech and big ideas. Whether it's the debate surrounding religion and atheism, foreign policy issues like immigration and terrorism, or big ideas like the role of government, Dave Rubin goes one on one with thought leaders, authors and comedians in 'The Sit Down,' has honest conversations and moderates opposing voices in 'The Panel,' and shares his own unfiltered thoughts in 'Direct Message.'
Previous guests range from comedians Bob Saget, Roseanne Barr, and Richard Lewis, politicians John McCain, Gary Johnson, and John Kasich, thought leaders Jordan Peterson, Sam Harris, and Ben Shapiro, religious leaders Bishop Barron and Rabbi Wolpe, and TV legends like Larry King and John Stossel, and many others.The Rubin Report is fan funded by an audience around the world. Distributed on YouTube and as an audio podcast, the show has over 1 million YouTube subscribers and is a top political podcast on Apple and Spotify.
Website — Youtube — Twitter — Facebook
Tim Pool – Timcast
Tim Pool is an Award Winning American journalist and Political Commentator. As the Founding member of VICE News, he has covered major events around the world in places such as Istanbul, Cairo, and Sao Paulo. Pool's coverage for VICE.com, as well as his groundbreaking livestream coverage of the 2011 protest movement, has been featured by international media outlets including The Guardian, Reuters, The New York Times, NBC, FastCompany, and Al Jazeera English. In 2014 he joined Fusion as the Director of Media Innovation to help develop and utilize new technology such as livestreaming aerial drones, mobile software and hardware, and even Google Glass.

During his time at VICE, VICE News, and Fusion Pool produced dozens of documentaries and ground breaking content reaching hundreds of millions of viewers on topics ranging from technology, internet rights, natural disasters, revolution and urban conflict, as well as American politics. Following his departure from Fusion Pool began producing independent news and political commentary. In 2015 he helped Launch Subverse media which currently reaches over 1 Million subscribers and over 33 Million viewers per month within its network.
Website — Minds— Youtube — Twitter
An0maly
An0maly is a creative hip-hop artist, activist, songwriter, video producer & human being. Combining elements of spirituality, philosophy & real-life; An0maly has become a leading voice of this generation as well as a respected, well-known rapper/poet. With over 55 million video views in 2017 alone & countless accomplishments as a self-made video producer, writer, creator, marketer, manager & personality: An0maly is one of the most ground-breaking independent news analysts, hip-hop artists & social media influencers in human history. Every second someone watches an An0maly video or listens to an An0maly song somewhere in the world.
Brandon Straka – Walk Away
BRANDON STRAKA, THE FOUNDER OF THE #WALKAWAY CAMPAIGN, IS A FORMER LIBERAL AND FORMER DEMOCRATIC PARTY SUPPORTER WHO HAS VERY PUBLICLY WALKED AWAY FROM THE POLITICAL LEFT AND CREATED A SOCIAL MOVEMENT ENCOURAGING OTHERS TO DO THE SAME.
His original YouTube video about his decision to leave the Democratic Party went viral in May of 2018, launching this explosive movement, uniting Americans across all demographics to leave the divisive left. Brandon frequently provides commentary on Fox News as a recurring guest on Justice with Jeanine Pirro, Fox & Friends, Tucker Carlson, Laura Ingraham, and many more. His hour-long, in-depth interview with Mark Levin on Life, Liberty, and Levin exposed millions to Brandon Straka and the #WalkAway Campaign. Brandon also provides conservative commentary for numerous television media outlets.
Website — #WALKAWAY — Twitter — Facebook
Dave Cullen – Computing Forever
Computing Forever is a channel dedicated to politics, social commentary and technology. You'll find tech reviews, discussions about politics, future technology, gaming Top 10s, vlogs and criticisms of social justice, political correctness and hyper consumerism. I approach my content with a critical eye and a skeptical mind.
Bitchute — Minds — Youtube — Facebook
Douglas Murray
Douglas Murray is an author and journalist based in Britain. His latest publication, The Strange Death of Europe: Immigration, Identity, Islam, was published by Bloomsbury in May 2017. It spent almost 20 weeks on The Sunday Times bestseller list and was a Number 1 bestseller in non-fiction. It has subsequently been published in more than 20 languages worldwide and has been read and cited by politicians around the world.
The Evening Standard described it as 'By far the most compelling political book of the year.' It was praised by, among others, Nick Cohen, Sir Roger Scruton, Clive James, Morrissey and Rabbi (Lord) Jonathan Sacks, who described it as 'The most disturbing political book I've read this year. Based on travels through key European centres, Murray weaves a tale of uncontrolled immigration, failed multiculturalism, systemic self-doubt, cultural suicide and disingenuous political leadership. Accurate, insightful and devastating.'
Triggernometry
TRIGGERnometry is a free speech YouTube show and podcast. We believe in open, fact-based discussion of important and controversial issues. Comedians Konstantin Kisin and Francis Foster create fun-but-serious conversations with fascinating guests, including former Presidential advisors and political experts, leading economists, psychologists, journalists, social and cultural commentators, YouTubers and others. We give our guests a chance to say what they think and explain why.
Styxhexenhammer666
For years I have created videos on a range of topics; politics, religion (and antireligion), gardening, current events, and philosophy. As an early arrival to Youtube, I have always disliked the concept of ad revenue, but being compensated for the rather massive amount of material I create is now a necessity. These extra funds will provide for better equipment, perhaps a better setup for content creation, and in the future, I hope, additional avenues for content creation altogether- perhaps live shows, and so forth. It will also ensure access to caffeine, which is very important for videomaking. I create, on a typical day, between three and five videos and do this about 350 days a year. (Everyone gets sick once in a while!) My videos and written works are unrepentant and eclectic- I do not censor my views and never will. In today's somewhat numb world, I believe my video content is of value to everyone.
Jeremy Hambly – The Quartering
Another social commentary channel but this one the guy has a beard! Let's Talk Games! I talk about issues many of us care about in the gaming industry, comics, and the world at large. Come to hopefully both be entertained & informed about a variety of topics.
Minds — Youtube — Twitter — Facebook
Jordan Peterson
Dr. Jordan B Peterson is a professor and clinical psychologist. The videos are derived from two sources: 1. His UToronto courses Maps of Meaning (which describes how values, including beliefs about good and evil, regulate emotion and motivation); and Personality & Its Transformations (which describes psychological theories from Eliade, Jung, Freud, Rogers, Gray, Luria, Sokolov, Vinogradova, Panksepp, Nietzsche, Kierkegaard, and Solzhenitsyn as well as psychometric models such as the Big Five). 2. His public lectures on topics of general psychological relevance, including the meaning of music, the significance of hero mythology, and the structure of the world as represented in religion.
Dr. Duke Pesta – Freedom Project Media
Freedom Project is dedicated to creating a generation of young Americans who are knowledgeable about their history and form of government, who cherish their American heritage and who are equipped with sufficient understanding to participate in effectively governing themselves in a Constitutional Republic. The importance of teaching American history goes beyond textbooks and classrooms. It's about creating a foundation that once sparked the era of American independence, and can do so again.
Website — Facebook — YouTube — Podcast — Twitter
Vision Launch Media
"Getting Information Off the Internet is Like Taking a Drink From a Fire Hydrant." Mitchell Kapor
Vision Launch Media is your gateway into the world of alternative media. We are a curated discovery platform for free-speech and independent thought. We use alternative sourced information to increase public awareness of crucial issues. Our goal is to help neutralize the corporate media's dominance over our culture & our nation's collective consciousness.
We publish original and syndicated content about issues that affect our liberties and quality of life. We index and categorize hundreds of independent media sources for discovery and easy access. Our news feed has up to the minute articles from over 80 independent news sources that are categorized for easier navigation and consumption.
Website — Minds — Twitter — Facebook — VLM News Feed
Vision Launch Media is a global discovery platform for free-speech and independent thought. We use alternative sourced information to increase awareness of crucial issues. Our goal is to help neutralize the corporate media's dominance over our nation's collective consciousness & promote critical thinking.