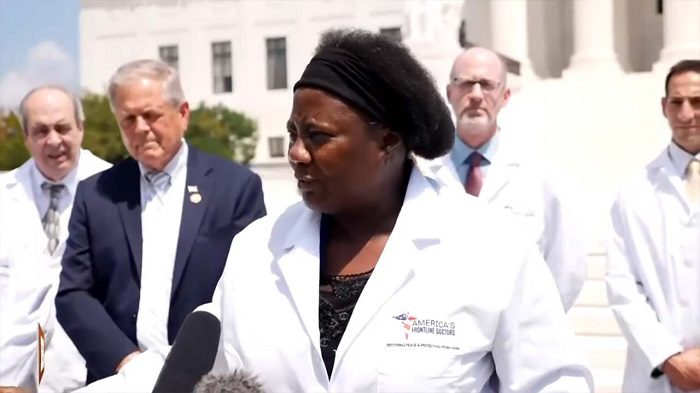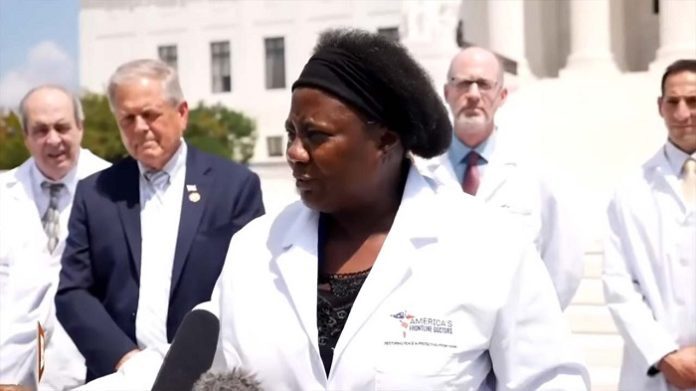 Courageous Doctors Are Not Backing Down!
Earlier this week, a group of doctors held a press conference to dispute the false claims and baseless attacks against the FDA approved drug, Hydroxychloriquine (HCQ). The doctors were immediately censored from every major platform and personally attacked by the corporate media. These are board-certified physicians who are working on the front lines of this pandemic whose crime was telling the public about their real-life experiences using Hydroxychlorquine treating COVID patients. Why are they being attacked and so heavily censored? The truth is, this pandemic is being used to advance larger agendas, and these doctors (and many others) are getting in the way.
Hydroxychloriquine is a Wrench In The Works
Curing people with HCQ is not part of the plan, and certainly not helpful for Bill Gates's mass vaccination program to be rolled out later this year. In fact, HCQ may even be the silver bullet that exposes this ill-conceived program. This is why HCQ must be suppressed at all costs. Keep in mind, this fast-tracked mass vaccination program (which has not even been tested on humans) is for a virus where 98% of the people who contract it under 60 years old fully recover. We are hanging all our hopes on a new vaccine when its a well-known fact that the influenza vaccine is not even very effective, despite decades of development, trial, and error. The influenza vaccine is also on record for the most dangerous side effects.
Related – What We Are Not Being Told: The Uncertain Promise Of A COVID Vaccine
Finding a cheap and effective cure for COVID patients also conflicts with the political agenda being advanced. If what these doctors are saying (and many studies) is true, this lockdown would be over in a week. Public fear would evaporate overnight. That is not helpful to the far left globalists behind the events of this year. They went through a lot of trouble to create these conditions. Why are we waiting for a vaccine when we have so many credible doctors telling us that HCQ is working right now? Wouldn't it be logical to use HCQ on more people? Wouldn't that we better than them dying?
Why is the FDA blocking the use of HCQ? HCQ is FDA approved and has been in use for over 50 years. Why does the AAPS (Association of American Physicians and Surgeons) need to sue the FDA to remove the restrictions on HCQ? This has nothing to do with public safety and everything to do with politics and hidden agendas. When you look at it in that light, it all makes sense.
Related – Bombshell – Dr. Fauci Knew Chloroquine Was an Effective Drug Since 2005
The War On HCQ
In an article we published several months ago, we presented a study from 2005 done by Dr. Fauci's own institution (National Institute of Health) that showed promising results for the use of HCQ with COVID patients. In the same article, we also listed several more recent studies from credible doctors showing successful results using HCQ. Facebook will not even let us post this article. Hydroxychloriquine is a cheap FDA approved drug that is at direct odds with Bill Gates's mass vaccination program. This is why the fake Hydroxychloriquine study published in the Lancet Medical Journal was designed to fail from the outset. HCQ is simply not part of the larger agenda, so the powers that be are doing everything possible to keep the public from using it.
Here is the front line doctors latest video:
Here are the doctor's credentials:
Simone Gold, MD – Emergency Medicine Specialist in Los Angeles, CA and has over 31 years of experience in the medical field. She graduated from Rosalind Franklin University Of Medicine Science/The Chicago Medical School in 1989. She is affiliated with Centinela Hospital Medical Center.
Dr. Bob Hamilton – pediatrician from Santa Monica, California. Medical School UCLA Geffen School of Medicine, Los Angeles, CA. Internship UCLA Geffen School of Medicine, Los Angeles, CA. Residency UCLA Geffen School of Medicine, Los Angeles, CA.
Dr. Stella Emmaneul – primary care doctor in Houston, Tx. Went to medical school in West Africa, Nigeria. Has practiced in Louisiana and now resides in Texas where she has treated more than 350 COVID patients.
Dr. Dan Erickson, DO – Emergency Medicine Specialist in Bakersfield, CA, and has over 16 years of experience in the medical field. He graduated from Western Univ Of Health Sciences/College Of Osteopathic Medicine Of The Pacific, Western University Of Health Sciences medical school in 2004. (While both degrees mean your doctor is a licensed physician, their training differs slightly, and each has a unique perspective on care. "An M.D. follows an allopathic medical training path, whereas a D.O. follows osteopathic,")
Dr. James Todaro, MD – an Ophthalmology Specialist received his medical degree from Columbia University, Vagelos College of Physicians and Surgeons in NY, and completed his surgical training with four additional years of residency in ophthalmology.
Dr. Joe Ladapo MD, Ph.D. – Physician at UCLA and clinical researcher. Internal Medicine, American Board of Internal Medicine, 2011.
Residency Internal Medicine, Beth Israel Deaconess Med Ctr-East Campus, 2009-2011.
Internship Internal Medicine, Beth Israel Deaconess Med Ctr-East Campus, 2008-2009. Degree Harvard Medical School, MD, 2008 Harvard University Grad. School of Arts, Sciences, Ph.D., 2008.
Related – Who Gets To Decide's What "The Truth" Is – and Why Is Censorship Backfiring on Big Tech Media?
Censorship: Bill Gates vs Actual Doctors
We need to ask ourselves, what is Bill Gates's qualifications for designing public health policy? Bill Gates is not a doctor and has never practiced medicine, yet he can go on any platform or news channel and give medical advice and never once be fact-checked or censored. Gates cannot even eradicate a virus from his own software, let alone one in real life. Not only is he allowed a large platform but he is intricately involved in creating public health policy. Gates is heavily invested in the vaccine industry and even owns vaccine patents. 
Meanwhile, these doctors who are speaking out and fighting the false Hydroxychloriquine narrative are doing so at great risk to their careers and reputations. They have nothing to personally gain and everything to lose. They should be commended for their bravery and selflessness. Any doctor who goes against the mainstream pharmaceutically sponsored narrative has a long, uncomfortable road ahead of them. It would be much easier for these doctors to not speak up, but their conscious won't let them.
Related – While America Is Under Attack, The Real Threats We ALL Face Quietly Advances
For those who were unable to see the original video due to the heavy censorship, we embedded it below using Bitchute:
More Examples of Blatant Medical Censorship:
Plandemic – A Must-See Micro-Doc About The Medical Mafia & Dr. Fauci
Must See! Whistle-Blower-Epicenter of Covid-19 Speaks Out: Manipulation & Medical Malpractice
Are you starting to see the big picture?
Strong proponent of individual liberty and free speech. My goal is to present information that expands our awareness of crucial issues and exposes the manufactured illusion of freedom that we are sold in America. Question everything because nothing is what it seems.