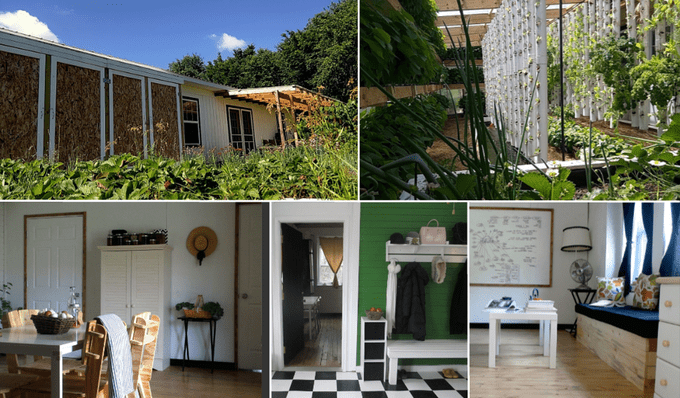 Open Building Institute has created a module home system that can expand with one's budget, present or future. The homeowner can choose from a library of design modules or they can design their own home. There is even a module with an aquaponic greenhouse allowing the homeowner to grow all of the food needed year round. The home is replete with eco-friendly features like 3000v Photo-voltaic panels, radiant hydronic heating, rain water collection systems and many other smart technologies.
The people behind this project want to share their knowledge with the world for free, via open source and Kickstarter. Marcin Jakubowski Ph.D from Open Source Ecology and Catarina Mota Ph.D of the Open Building Institute have teamed up to create affordable, eco-friendly modular smart home systems to be made available to the public. Jakuboski founded Open Source Ecology in 2003 by creating The Global Village Construction Set which consists of the 50 industrial tools needed to create a civilization from scratch. Now Jakubowski and Mota are using some of those same machines from the GVCS to build these innovative homes.
Open Building Institute is developing an open source eco-building toolkit to put the construction of ecological housing within the reach of everyone—by making it easier, cheaper, and faster. With this toolkit anyone can:
Design a home or greenhouse—of any size—using a library of modules that fit together like building blocks
Learn how to build with instructionals and training programs
Organize the rapid-build of a house loaded with ecological features
The OBI toolkit is entirely open source – free to use and modify.
Features included in the 2016 Starter Home build:
3000W Photovoltaics for off-grid energy
Biogas Digester
Grid-Tie Inverter
Open Source Thermoelectric Generator
Super-efficient LED Lights (3W Each)
Super-efficient Refrigerator (8W average)
Pellet Burner for House and Water Heating
In-Floor Hydronic Heating
CEB Floor
2 CEB Wall Modules
Modular Plumbing Fixtures
Modular Electric Panel
Passive Solar Design
Biofiber Insulation
Rainwater Collection
Super-efficient Shower Head
Water purification: sand, charcoal, ozonator
Separating Toilet
Greywater Garden
For a more complete description of these features, see Features Narrative.
The idea behind the Open Building Institute is to put home ownership within everyone's reach without being burdened with years of debt. The starter seed home is a 700 sq foot model which includes the aquaponic greenhouse component for under $40,000. There is much more info in the above Kickstarter campaign.
Strong proponent of individual liberty and free speech. My goal is to present information that expands our awareness of crucial issues and exposes the manufactured illusion of freedom that we are sold in America. Question everything because nothing is what it seems.