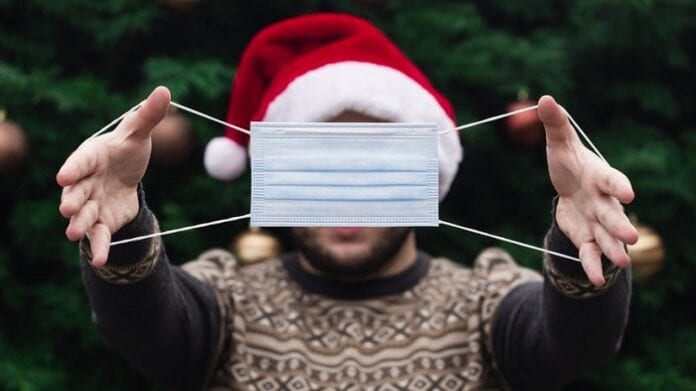 This year is probably regarded as the worst in a long time, with the coronavirus pandemic still raging on and much of our Thanksgiving ruined by it, let's make this Christmas memorable.
There are some brilliant ideas through which we can all stay safe and still feel connected with our loved ones, family members, and relatives. Let's not let this COVID-19 rig the most celebrated event of the year. Ending this year with a high note would probably be the best thing for all of us.
According to the study by The New York Times, at least 818 coronavirus deaths and over 136,313 new cases have been reported in the US on November 29, this year.
Over the past week, there has been an average of 162,007 cases per day, which is an 8% increase from the average two weeks earlier. The BBC reported around 3 million people traveling through US airports for Thanksgiving despite warnings.
In light of this information, let's take a quick look at some of the ways we can make this year's Christmas fun and safe for everyone else, including ourselves.
1. An Obligation to Follow SOPs
SOPs take prominence whether it is a festive season or not. As reasonable citizens, we must all ensure that standard operating procedures for maintaining social distancing and keeping yourself safe from coronavirus are extremely important. If we do not follow them, then we are not only putting ourselves at risk but also the safety of others on stake.
So regardless if it is Christmas, safety comes first, and this is why we need to make sure that follow SOPs to the core. Plus who says we can't have fun while following SOPs? There are tons of things to do while keeping our masks on, keeping our hands clean, and maintain social distancing.
2. Binge-Watch Christmas Movies
One way to enjoy Christmas this year amid coronavirus is to binge-watch all your favorite movies with friends and family. You can keep beanbags at a six feet distance, and maintain social distancing, play the movie on a big projector and have separate bowls of popcorns for the audience. You can also add additional refreshments and may choose to dim the lights to give you a feel as if you are in the cinema.
Surround sound systems would be great to offer you an immersive experience and voila you can enjoy a good family time while maintaining SOPs. Or you can simply visit a make-shift cinema that is offering a drive-thru experience where you can park outside and watch a movie being screened during Christmas through the luxury of your vehicle.
3. Connecting with Relatives via Technology
There are various ways through which you can connect with your loved ones and family members this year using technology as a medium for the Christmas season. Video calling options are available on a multiple of platforms including WhatsApp and Zoom.
You can arrange online conferences and meetings to have an online session with your friends and relatives while maintaining social distancing. You can also record these sessions to make them even more memorable.
A lot of free video conferencing tools are available to offer you the ability to allow multiple participants to join. So, I am guessing, we can all sing along to our favorite Christmas carols together.
4. Design Your Own Playground
If you are lucky enough to have a yard or some ample space indoors where you can just move the furniture a bit to get more room, then this is going to be a great idea. There are various DIY (Do It Yourself) ideas available online that help you to design and develop your own indoor playgrounds.
Plus if you consider your outdoor safe enough to practice SOPs diligently then you can let your kids play outdoors but under your strict supervision.
It is to be noted that our kids are the one who is suffering the most during this pandemic. Not able to go outdoors or even attend their schools have made our little darlings grumpy and prisoners inside their own home.
5. Host a Virtual Party
Hosting a virtual party on Christmas would be a great idea to celebrate the festivity while keeping social distancing intact. Here is what you need to do:
Set out a proper time and send out invitations beforehand.
You can even buy your guest lunch and make sure that their food order arrives at the exact time so everyone can start munching with the help of food delivery services.
To add more flair, ask your guest to attend the party all dressed up in their favorite costumes so people can look and admire them.
Netflix Party is a great tool that you can use to watch your favorite shows and TV-series together.
Plan ahead and schedule games that you can play together with your guests.
Make sure that you pick the right tools for your virtual parties such as themed lighting and background music.
6. Practicing Traditions Indoors
Christmas traditions across the US include a variety of things including decorating houses, putting statues of Santa Claus, snowman, and reindeers. On Christmas Eve in many homes, you would find a glass of milk and some cookies often left out as a snack for Santa. Towns and cities, as well as streets, are often decorated with lights to celebrate Christmas.
Who can forget eggnog? Plus the gingerbread houses! Many of us would go to church on Christmas as well to celebrate the birth of Jesus. There is carol singing, the Christmas Pickle, and sending out Christmas Cards. I recommend that you do all that indoors just to stay safe from the virus and decorate your Christmas trees! Students looking for cheap essay writing service this year are going to be doing the same when the biggest festive season of the year arrives!
7. Send out Special Gifts
Let's make this Christmas special by sending out gifts that people actually need. Here are some ideas to make them worth the while:
Homemade items like crockery made out of marble
Cable knit blankets with loop yarn or fleece blankets
Polaroid photo coasters
Homemade and personalized heating pad with your choice of covering
Self-made tablet holders with Christmas greetings inscribed on them
Caramel apple butter with an online recipe
And so much more!
8. Video Calling Santa
There is no Christmas without Santa, and this year just to stay indoors and to avoid contracting the deadly coronavirus disease, it would be a fine idea to video call Santa.
There several online services available at the moment that can help you do this, including:
Simulated Video Call from Santa at Google Play Store
Video Call Santa on Apple's App Store
Call Santa Phone Number for Real via Portable North Pole's website
Make a Christmas Wish with the help of Video Call Santa website
Conclusion
On December 25 2020, billions of people around the world will celebrate Christmas and celebrate the birth of Jesus Christ. However, due to the coronavirus pandemic, we must all maintain the SOPs regarding social distancing and minimize physical contact.
Celebrate this year to the fullest but make sure that your friends and family members follow proper instructions and keep their hands clean and wear a face mask when going outside. Merry Christmas to you all and here's to a year of blessings and beyond!
Elaine Vanessa currently works as a Senior Research Analyst and blog writer at Dissertation Assistance. She likes to indulge herself in pop-culture and media during her leisure time. Long walks at the beach with her pet terrier bring her comfort and solace during troubling times.