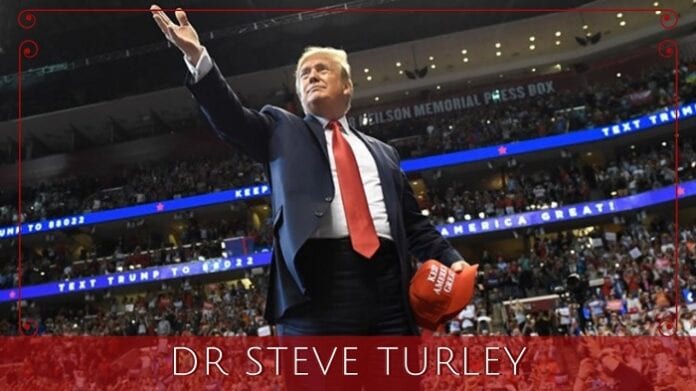 Election of 2020
Fox News was once the only cable news network where conservative views could be heard. Fox still has its conservative primetime lineup (minus Bill O'Reilly, replaced by Tucker Carlson) but the core of the network has changed since the days of the former disgraced CEO, Roger Ailes. Many Fox News viewers are asking why was the Fox news desk so reluctant to call states for President Trump yet eager to give states to Joe Biden with far less data in.
To be fair, Fox News was the only major news network to cover the Hunter Biden laptop story in any serious way, but as Dr. Turley points out in the video below, the network seems to be at war with itself. In a recent interview with Fox News, Former Speaker of The House, Newt Gingrich was silenced for mentioning the name George Soros.
Democrats Are Becoming So Obvious
You don't need to be a conspiracy theorist to know that the Democrat Party wanted to blur the outcome of this election at all costs. We have seen election fraud leading up to this election for many weeks, did we think that the actual election would be any different?
Did you notice how the states with vote count issues were all run by Democrats while vote counts in the states run by Republicans went smoothly? Why did Pennsylvania officials stop counting the ballots last night? Was it because Trump was so far ahead of Biden? Are they trying to stop Trump's momentum and diminish his mandate?
Fox News Is Becoming Obvious Too
Many people have come to believe that Fox News is just a wolf in sheep's clothing playing its own subtle part in the mainstream media's continued deception against the American people. Make no mistake, Fox News is a mainstream media establishment channel too and they manipulate their viewers in their own way.
Scores of conservatives were complaining last night stating that they were getting better news coverage on the anti-Trump news networks like CNN than they did from Fox. Social media was abuzz with complaints about Fox News coverage too. Social media users were recommending Newsmax or OAN instead of Fox. Newsmax was trending strongly last night.
Related – STS News is a Better Alternative to Drudge Report
The Fall Of The Drudge Report
Popular conservative talk show host, Dr. Steve Turley voices his concern over Fox News Desk coverage and the late calls they made last night. Dr. Turley likens the change in Fox to that of the conservative website, The Drudge Report. For those not familiar, The Drudge report was once the most popular conservative websites in the world and was very instrumental in getting Donald Trump elected in 2016.
In the last several years The Drudge Report has taken an anti-Trump stance, causing many to believe the owner (Matt Drudge) sold out, both figuratively and literally. Now The Drudge Report is just like all of the other far-left media outlets with nothing distinguishing itself from the others. This is the reason that The Drudge Report has been bleeding viewership to new sites like Speed the Shift News, The Bongino Report, and Citizens Free Press.
Will Fox News viewers start to leave and go to competing networks like Newsmax and One America Network? Tucker Carlson is the best show on Fox (and cable news) but he is only one person filling a one-hour time slot per weekday evening.
Related – Whistle-Blowers & Undercover Video Confirm Big Tech Is Interfering In 2020 Election to Defeat Trump!
Dr. Turley goes on to say that Fox's horrible election night coverage "will not be easily forgiven by conservatives" and many will reexamine their choices after this election. He also believes that had the votes been typically counted, this election would have been called last night for President Trump. He is not the only one who thinks this way. We are now entering a period of uncertainty just like the Democrats wanted.
Vision Launch Media is a global discovery platform for free-speech and independent thought. We use alternative sourced information to increase awareness of crucial issues. Our goal is to help neutralize the corporate media's dominance over our nation's collective consciousness & promote critical thinking.